NGC 5907
Spiral galaxy NGC 5907 (= H II.759), type Sb+, in Draco

Splinter Galaxy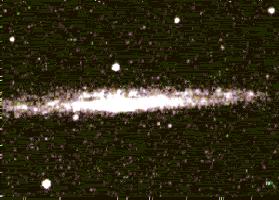 | | |
| --- | --- |
| Right Ascension | 15 : 15.9 (h:m) |
| Declination | +56 : 19 (deg:m) |
| Distance | 40,000.0 (kly) |
| Visual Brightness | 10.38 (mag) |
| Apparent Dimension | 12.3 x 1.8 (arc min) |
Discovered 1788 by William Herschel.
This is the second prominent member of the NGC 5866 group. As it is seen almost exactly edge-on, and is an extremely flat disc, it appears extremely elongated, shaped like a "knife edge". Supernova 1940A, which was discovered by Johnson, occurred in NGC 5907 on February 16, 1940 and reached magnitude 14.3 (see PASP 52, 146).
Image by John Sefick, taken with a 25-inch Newton and a ST-6 CCD camera. View his photos of NGC 5907 and NGC 5866 side by side, or all his photos of NGC 5907.