Leo I
Dwarf Elliptical Galaxy Leo I (UGC 5470, DDO 74), type dE3, in Leo

Regulus Galaxy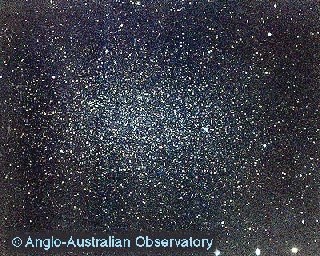 | | |
| --- | --- |
| Right Ascension | 10 : 08.5 (h:m) |
| Declination | +12 : 18 (deg:m) |
| Distance | 600.0 (kly) |
| Visual Brightness | 11.8 (mag) |
| Apparent Dimension | 6 (arc min) |
Discovered by R.G. Harrington and A.G. Wilson in 1950.
Leo I is another Local Group Galaxy. It is one of the dwarf speroidal galaxies of the group, and one of the more remote companions of our Milky Way Galaxy.
The image in this page was obtained by David Malin with the Anglo-Australian Telescope. This image is copyrighted and may be used for private purpose only. For any other kind of use, including internet mirroring and storing on CD-ROM, please contact the Photo Permissions Department of the Anglo Australian Observatory.