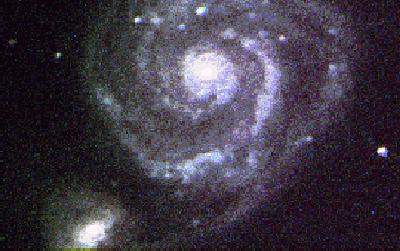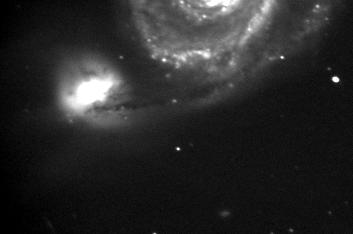 John Sefick's images of M51, taken with a 25-inch Newton and a ST-6 CCD camera.
More images from John Sefick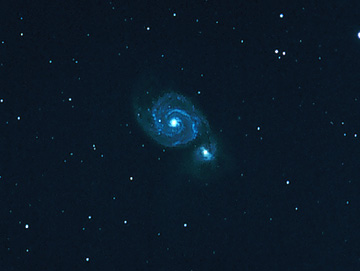 This image of M51 was contributed by Brad Wallis and Robert Provin. It was taken with their 155mm f/7 Astro-Physics EDF refractor which feature superior color correction and flat photographic fields. This image was exposed 60 minutes on (unhypered) Fujicolor Super G 800+ film.
The image is copyrighted. It may be freely used for private purpose. Use in non-commercial public html pages requires appropriate acknowledgement. If you should consider any for-profit use, please contact Robert Provin.
More images from Robert Provin and Brad Wallis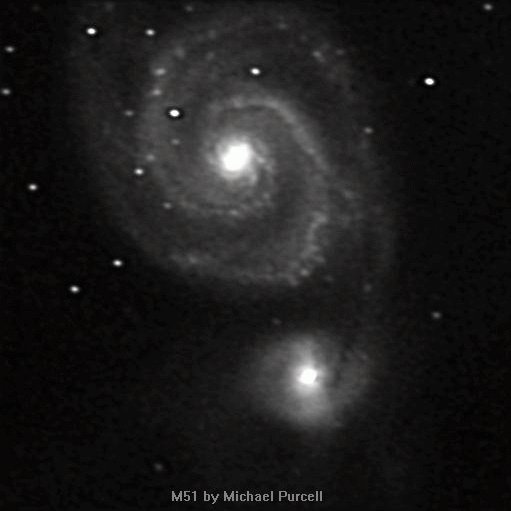 Michael Purcell's image of the Whirlpool Galaxy M51, taken on November 24, 1995 at 05:03:10 with his Meade 10-inch f/6.3 SC Telescope and a ST7 CCD camera, exposed 15 minutes.
More images by Michael Purcell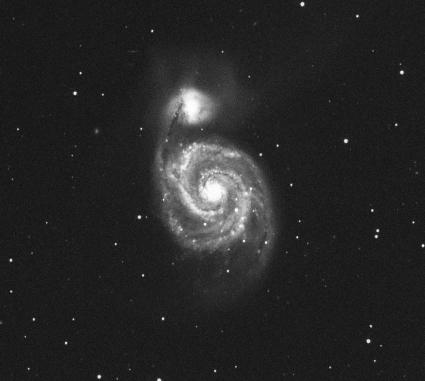 Interacting galaxies, the spiral galaxy M51 with its distorted companion, NGC 5195 show up in this b/w film photograph by Martin C. Germano.
ISO images of M51 in the infrared light
---
Hartmut Frommert (spider@seds.org)
Christine Kronberg (smil@lrz.uni-muenchen.de)




Last Modification: 6 Jul 1999, 22:40 MET