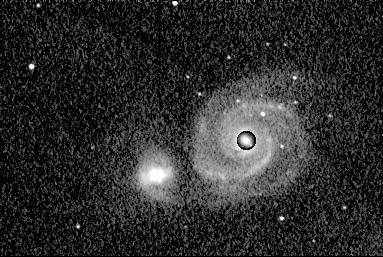 Taken by amateurs of the Sternfreunde Breisgau e.V. at the Schauinslandsternwarte with their new CCD camera on a Celestron 11.
Contributed by Peter Suetterlin from the CCD image collection of the `` Sternfreunde Breisgau e.V."
More images from Peter Suetterlin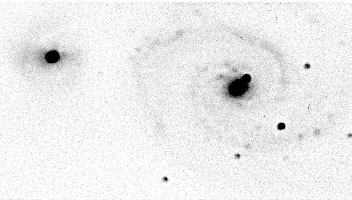 Michael Purcell's image of supernova 1994I in M51. M51 is the larger galaxy at right. The supernova is the "star" at the upper right edge of M51's nucleus. This image was taken on April 15, 1994 at 04:30 with his Meade 10-inch f/6.3 SC Telescope and a ST6 CCD camera, exposed 5 minutes.
ISO images of M51 in the infrared light
---
Hartmut Frommert (spider@seds.org)
Christine Kronberg (smil@lrz.uni-muenchen.de)




Last Modification: 6 Jul 1999, 22:40 MET