M 94
Spiral Galaxy M94 (NGC 4736), type Sb, in Canes Venatici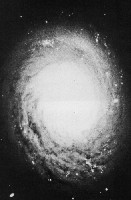 | | |
| --- | --- |
| Right Ascension | 12 : 50.9 (h:m) |
| Declination | +41 : 07 (deg:m) |
| Distance | 14500 (kly) |
| Visual Brightness | 8.2 (mag) |
| Apparent Dimension | 7x3 (arc min) |
<!TEXT> <!draft> Discovered by Pierre Méchain in 1781.
Spiral galaxy M94 was classified Sab because of its extremely bright inner region (overexposed in our image). This bright circular disk is surrounded by a ring of active star-forming regions, traced by blue young star clusters in color images, which sharply separates it from a much less bright outer ring of an older yellowish stellar population. In the outskirts, this region however ends again in a ring with moderate star formation activity, so that M94 is one of the relatively rare galaxies in which two "waves" of stellar formation can be observed. In very long exposures, a further very faint ring, about 15 arc minutes across, becomes visible, a suggestion of which is visible in the DSSM image of M94, but see also the inset in the Hubble Atlas of Galaxies.
The distance of M94 is not yet well-determined (at least to the knowledge of the present author). Tully gives about 14 million light years, Burnham 20, Kenneth Glyn Jones 33 million light years.