Various Messier Posters
Various Messier posters are available online in this database; click on the posters to see them in full size.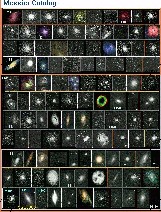 Messier poster by Robert Casey
---
Amateur images of all Messier objects and a feature of the Messier catalog are displayed in Astronomy Vol. 28, No. 6 (June 2000) page 65-68.
---
Hartmut Frommert (spider@seds.org)
Christine Kronberg (smil@lrz.uni-muenchen.de)




Last Modification: 8 Mar 1998, 17:30 MET