NGC 7000
Diffuse Nebula NGC 7000 (= H V.37 ?) in Cygnus

North America Nebula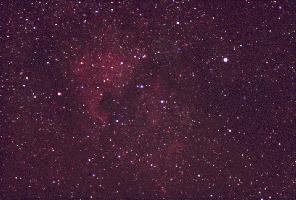 | | |
| --- | --- |
| Right Ascension | 20 : 58.8 (h:m) |
| Declination | +44 : 20 (deg:m) |
| Distance | 1.6 (kly) |
| Apparent Dimension | 120 x 100 (arc min) |
Perhaps discovered by William Herschel in 1786. Discovered by John Herschel before 1833.
This nebula is lying 3 degrees from bright Deneb, alpha Cygni. Some people claim it may be visible to the naked eye under good, dark conditions, and a preferred object for amateur astrophotographers. The distance to the North America Nebula is estimated at 1,600 light years. The North America Nebula was perhaps detected by William Herschel.
Our photo is courtesy of Dr. Andjelko Glivar, Donja Stubica, Croatia, who obtained it "piggyback" on his C8 with a Tele 200mm/f:3.5, on Fujicolor super G plus 800, 25 min. exposure time.
In John Caldwell's observing list. Caldwell 20 in Patrick Moore's list.
Observing Reports for NGC 7000 (IAAC Netastrocatalog)

---
Hartmut Frommert (spider@seds.org)
Christine Kronberg (smil@lrz.uni-muenchen.de)




Last Modification: 29 Mar 1998, 12:20 MET