NGC 6242
Open Cluster NGC 6242 (= Lacaille I.4 = Dunlop 520 = Melotte 155 = Collinder 317), type 'f', in Scorpius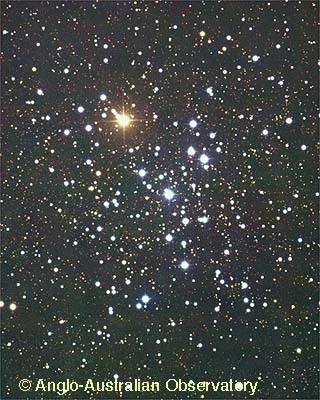 | | |
| --- | --- |
| Right Ascension | 16 : 55.6 (h:m) |
| Declination | -39 : 30 (deg:m) |
| Distance | 3.9 (kly) |
| Visual Brightness | 6.4 (mag) |
| Apparent Dimension | 9 (arc min) |
Discovered by Lacaille in 1751-52.
The southern open cluster NGC 6242 was discovered by Abbe Lacaille during his 1751-1752 journey to South Africa.
The image in this page was obtained by David Malin with the 3.9-meter Anglo-Australian Telescope. This image is copyrighted and may be used for private purpose only. For any other kind of use, including internet mirroring and storing on CD-ROM, please contact the Photo Permissions Department of the Anglo Australian Observatory.
More information on this image (David Malin)
Observing Reports for NGC 6242 (IAAC Netastrocatalog)

---
Hartmut Frommert (spider@seds.org)
Christine Kronberg (smil@lrz.uni-muenchen.de)




Last Modification: 8 Mar 1998, 22:00 MET