NGC 2264
Diffuse Nebula and Open Cluster NGC 2264 (= H V.27 = H VIII.5), in Monoceros

The Cone Nebula and the Chrismas Tree Cluster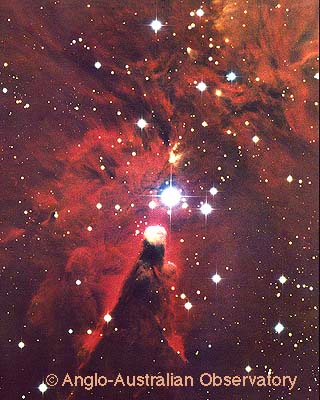 | | |
| --- | --- |
| Right Ascension | 06 : 41.1 (h:m) |
| Declination | +09 : 53 (deg:m) |
| Distance | 2.4 (kly) |
| Visual Brightnes | 3.9 (mag) |
| Apparent Dimension | 20.0 (arc min) |
William Herschel discovered the cluster in 1784, the nebula in 1785.
The Cone Nebula and the Chrismas Tree Cluster were discovered by William Herschel, who assigned them the numbers H V.27 and H VIII.5. The nebula belongs to a much larger complex, which is currently an active star forming region.
Our image was obtained by David Malin with the Anglo-Australian Telescope. This image is copyrighted and may be used for private purpose only. For any other kind of use, including internet mirroring and storing on CD-ROM, please contact the Photo Permissions Department of the Anglo Australian Observatory.