Hubble discovers Cepheid variables in M100
The Grand Design Spiral Galaxy M100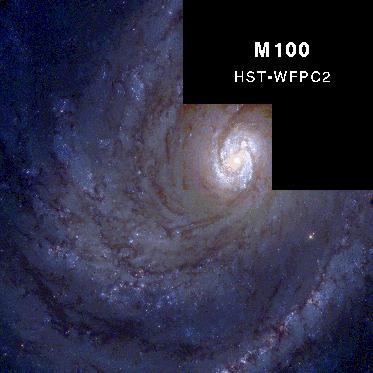 Hubble Space Telescope image of the grand design of spiral galaxy M100 taken on December 31, 1993 with the Wide Field Planetary Camera 2 (WFPC 2). This color picture is a composite of several images taken in different colors of light. Blue corresponds to regions containing hot newborn stars. Hubble, for the first time, could resolve individual stars within the majestic spiral arms; these stars typically appeared blurred together when viewed with ground-based telescopes.

Hubble has measured accurately the light from the very faint stars in M100, and has identified about 20 Cepheid Variable stars embedded within M100's spiral arms. From the measurements of their pulsation period, the intrinsic brightness of these stars can be determined. As the apparent brightness is acurately measured also, one can calculate how distant the stars must be to appear at the observed magnitude, which gives a considerably precise value for the galaxy's distance: M100 is about 56 million light years distant.

M100 is a majestic face-on spiral galaxy. It is a rotating system of gas and stars, similar to our own galaxy, the Milky Way. Hubble routinely can view M100 with a level of clarity and sensitivity previously possible only for the Local Group galaxies.
[Full original image caption]

This image was featured as Astronomical Picture of the Day (APOD) January 9, 1996.

Cepheid Variable Star in M100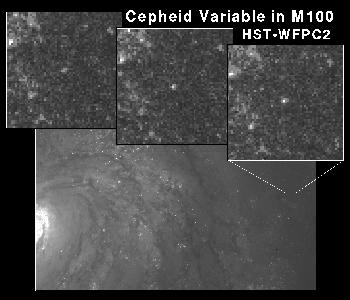 This NASA HST image of a region of the galaxy M100, taken in the visible light, shows the representative of a class of pulsating star called a Cepheid Variable. Though rare, these stars are reliable distance indicators to galaxies. Based on the Hubble observation, the distance to M100 has been measured accurately as 56 million light-years (+/- 6 million light-years), making it the farthest object where intergalactic distances have been determined precisely.

Hubble's high resolution pinpoints a Cepheid, which is located in a starbirth region in one of the galaxy's spiral arms (bottom frame). The top three frames were taken on (from left to right) May 9, May 4, May 31, and they reveal that the star (in center of each box) changes brightness. Cepheids go through these changes rhythmically over a few weeks. The interval it takes for the Cepheid to complete one pulsation is a direct indication of the stars's intrinsic brightness. This value can be used to make a precise measurement of the galaxy's distance.
[Full original image caption]
This image was featured as Astronomical Picture of the Day (APOD) January 10, 1996.

Hubble Snapshots Capture Pulsation Rate of a "Stellar Milepost"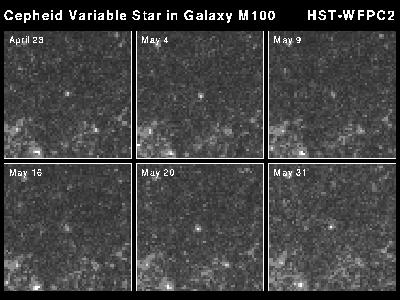 This sequence of images taken with NASA's Hubble Space Telescope chronicles the rhythmic changes in a rare class of variable star (located in the center of each image) in the spiral galaxy M100. The images were taken in the visible light in 1994. This class of pulsating star is called a Cepheid Variable. The Cepheid in this Hubble picture doubles in brightness (24.5 to 25.3 apparent magnitude) over a period of 51.3 days.

The interval it takes for the Cepheid to complete one pulsation is a direct indication of the stars's intrinsic brightness. This value can be used to make a precise measurement of the galaxy's distance, which turns out to be 56 million light-years from Earth.
[Full original image caption]

---
Early HST images of M100 with the new WFPC2 and Costar
---
Hartmut Frommert (spider@seds.org)
Christine Kronberg (smil@lrz.uni-muenchen.de)





Last Modification: 19 Apr 1998, 15:10 MET