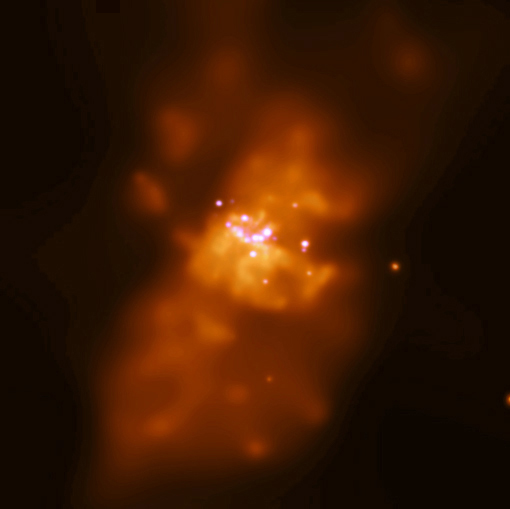 Chandra X-Ray Observatory image of M82
Nasa's Chandra X-ray Observatory has images nearby irregular starburst galaxy M82 in the x-ray part of the spectrum. As massive stars are orming and expiring in M82 at a rate ten times higher than in our galaxy, there is a large number of supernova remnants and X-ray binaries in this galaxy, which can be seen as bright spots in this image. Some of these spots are probably among the brightest X-ray binaries known. The diffuse glow of X-ray light is caused by very hot gas with a temperature of several million degress; this gas extends over several thousands of light years and is flowing out of the galaxy. It is thought that the starburst activity in M82 has been caused by a close encounter with its larger neighbor, M81, a few tens of million years ago.
Images were obtained with Chandra's Advanced CCD Imaging Spectrometer (ACIS).