The star Merope and its Nebula NGC 1435/IC 349 in in the Pleiades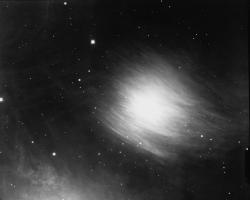 The most conspicuous of the Pleiades reflection nebulae is NGC 1435 around Merope, also called "Tempel's Nebula", as it was discovered by Wilhelm Tempel on October 19, 1859. This is the only one of the reflection nebulae in the Pleiades which was known to John Herschel when he compiled his General Catalog (GC) in 1864, and has been assigned the number GC 768. In the NGC, it is described as very faint, very large, diffuse nebula around Merope; its angular diameter is given as half a degree (same as the Full Moon).

The image displayed here was obtained with the KPNO 4-meter Mayall telescope in 1975. Credit and copyright: AURA/NOAO/NSF.