Amateur images of M31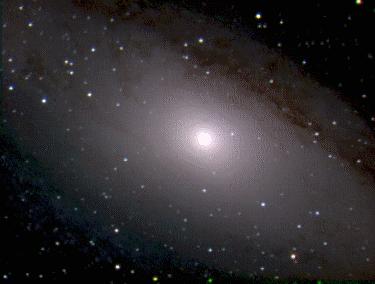 Central region of the Andromeda galaxy, M31, showing core, central bulge, inner spiral arms, and dust lanes.
This image was taken by Jack Newton in East Sooke, British Columbia. He uses a Santa Barbara Instrument Group ST 6 CCD camera at the Newtonian focus of his 25 inch f5 telescope. The image is a tri-colour composite, approximately 5 minute exposures.
The image is copyrighted and may not be used for commercial purposes without permission. Call 1-800-387-9010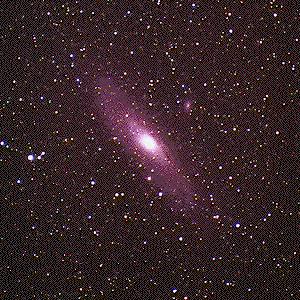 M31 with its companions, M32 (below M31) and M110 (above and right of M31), as taken by Alexander Jäger of the Interessengemeinschaft Astronomie at the University of Constance with a 300-mm f/2.8 telephoto lens, stopped to f/3.4, exposed 10 minutes on Scotchchrome 400, from Todoque, La Palma.
More images from the Interessengemeinschaft Astronomie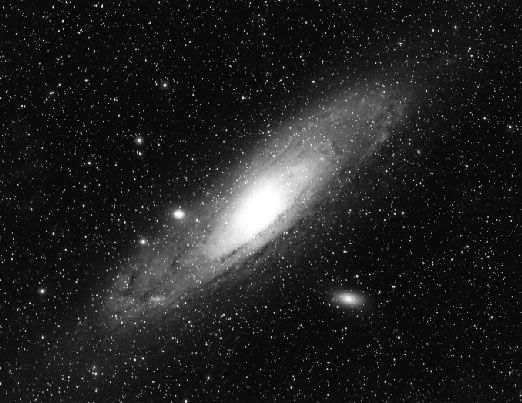 M31 with its companions, M32 (left of M31) and M110, photographed by Brad Wallis and Robert Provin with their 152mm f/7.5 Astro-Physics EDF refractor, exposed 2 hours on hypered 4x5 inch Kodak Tech Pan.
This image is copyrighted. It may be freely used for private purpose. Use in non-commercial public html pages requires appropriate acknowledgement. If you should consider any for-profit use, please contact Robert Provin.
More images by Brad Wallis and Robert Provin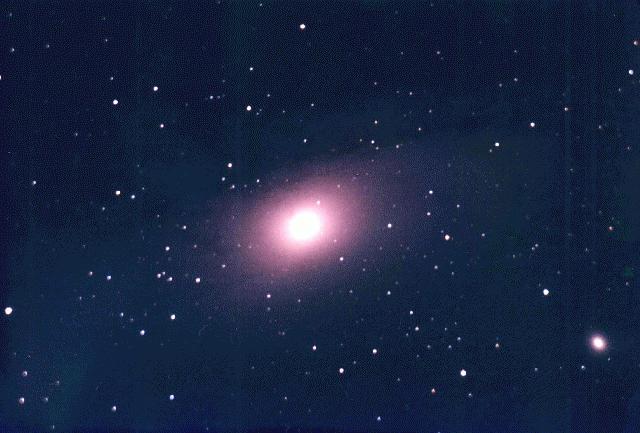 Image of the Andromeda Galaxy M31 by Dr. Andjelko Glivar, Donja Stubica, Croatia, obtained through a C8, exposed 60 minutes on Fujicolor super G plus 800.
More images by Dr. Andjelko Glivar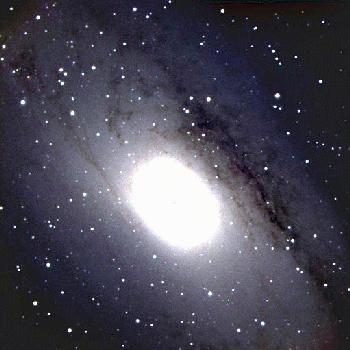 Tim Puckett's CCD image of M31 (click to see it in full size). This image was composed from a red, a green, and a blue photo, exposed 90 seconds each, with an Apogee AP-7 CCD camera and 30-cm reflector.
More images from Tim Puckett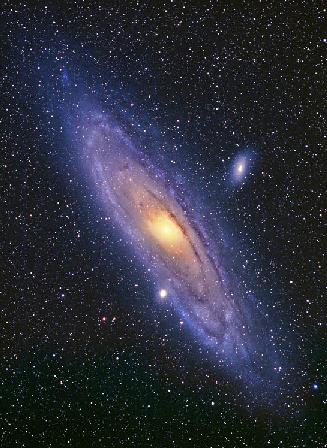 George Greaney obtained this great color image of spiral galaxy M31, the Great Galaxy in Andromeda, together with its smaller elliptical satellite galaxies M32 and M110.
This image is a digital composite of two one-hour exposures on hypered 120 format Kodak PPF Pro 400 film. Each 6X7 negative was scanned at 2000 dpi using a Polaroid Sprintscan 45. The image files were merged in Picture Window 2.0, the resulting composite image was further enhanced using Adobe Photoshop 5.0.
More images from George Greaney
---
Hartmut Frommert (spider@seds.org)
Christine Kronberg (smil@lrz.uni-muenchen.de)




Last Modification: 3 Jul 1999, 0:15 MET